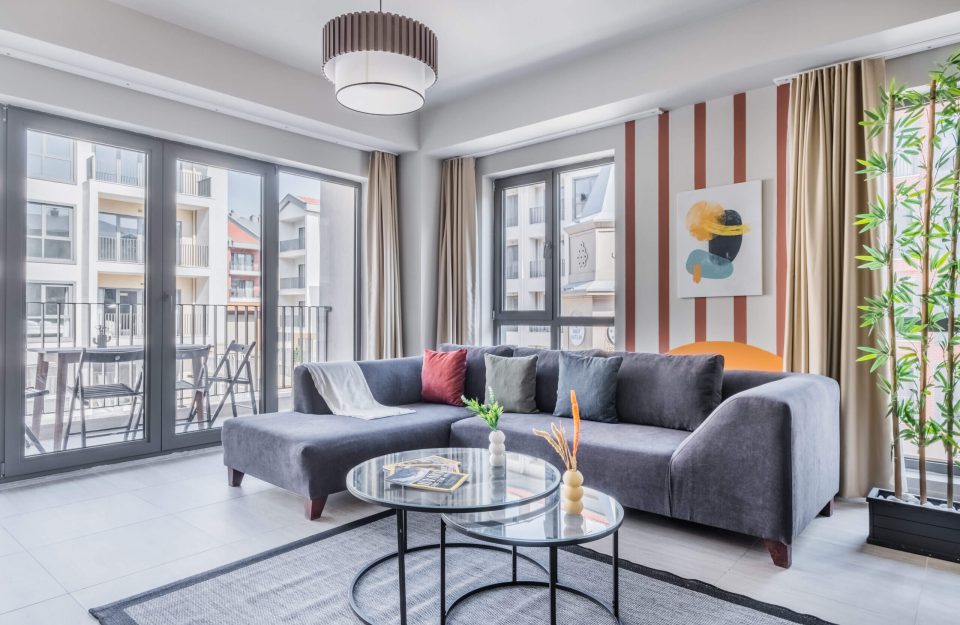 In this blog article, all you need to know about serviced apartments will be covered, including what they are, who they serve, how they operate, their safety, and the benefits they offer to both property owners and guests.
What is a Serviced Apartment?
A serviced apartment, also known as "Aparthotel" or "Corporate Housing" is a completely equipped apartment that may be utilized for both short and long-term visits. All of the necessities for everyday life are included in most serviced apartments. 
Serviced apartments are like having your own house. A fully-equipped kitchen, a washing machine, separate bedrooms, living rooms, bathrooms, and WCs, as well as Wi-Fi, cable TV, water, and electricity are all included. Furthermore, housekeeping is performed on a regular basis. Thus, they are also comparable to hotel rooms yet less expensive.
Most serviced apartments are rented to tourists, business travelers, lecturers delivering seminars, and for employees who are temporarily relocating because of their jobs; most companies provide them short-term housing in serviced apartments. 
Serviced apartments offer a great option for property investment as well, as they provide a guaranteed rental income for the owners and good rental returns.
Different Types of Serviced Accommodation in Turkey
The types of serviced apartments vary based on who is staying and the purpose of stay; these include:
Corporate Rentals are serviced apartments typically designed with business-friendly amenities, furnished with high-end furniture, and are kept immaculately as they cater to high-ranking clients and corporate travelers.
Vacation Rentals are an excellent alternative for people seeking more exquisite locations, since they may locate unique properties. Or prefer to live like a local by staying in a serviced apartment rather than a hotel room.
Relocation Rentals are for individuals, couples, families, and groups of coworkers who can all benefit from fully serviced apartments that guarantee a stress-free relocation.
Short Term Rentals of serviced apartments are increasingly replacing hotel rooms as the preferred option for travelers who want more privacy and comfort than can be found in a small hotel room.
Long Term Rentals are serviced apartments that offer long-term rentals and are for those who are seeking a more convenient and cost-effective option. Since the rental rate includes all utilities, housekeeping, taxes, and WIFI, staying for an extended period is more cost-effective.
How Do Serviced Apartments Work?
Arriving in a serviced apartment as a guest, it's like having your own house. A fully-equipped kitchen, a washing machine, separate bedrooms, living rooms, bathrooms, and WCs, as well as Wi-Fi, cable TV, water, and electricity are all included. Furthermore, housekeeping is performed on a regular basis. As a result, they are also comparable to hotel rooms yet less expensive.
The check-in procedure for serviced apartments varies greatly depending on the location and size of the complex. At certain apartment complexes, it is quite similar to that of a typical hotel, complete with a hotel-style reception and concierge. In smaller apartment complexes, a meet and greet are typically scheduled. This is generally done in the apartment, making the check-in procedure short and easy.
Owners of serviced apartments can choose how they want to work with their property management. However, serviced apartment contracts usually come in two types:
1. Long term rental: This method allows the management to run the apartment like a hotel room. In this arrangement, the owner of the apartment only uses it as a rental property.
2. Short Term Rental: This method allows the owner to use the property occasionally while the management can rent it out for short-term stays. It is most commonly used for resort properties, where the owner may use the property as vacation accommodation for part of the year and let the management rent it out for the remaining period.
Are Serviced Apartments Hygienic and Safe?
When it comes to hygiene, there is more reliability in the majority of serviced apartments now more than ever before. With a greater emphasis on cleaning high contact areas like doors and elevators, disinfecting frequency has been increased.
When cleaning the apartment, housekeeping personnel utilize antibacterial sprays, gloves, masks, and shoe coverings to ensure that all surfaces are disinfected before leaving.
As for security, guests' safety and security are the top priorities for the on-site supervisors who oversee all apartments. There is also well-equipped security equipment like videophones, and cameras, to monitor all activity in common areas.
Reasons to Choose Serviced Apartments as Property Owners & Guests
Benefits for Property Owners
Owners have access to a lovely vacation home in a great location. When an owner decides to rent out their apartment, the rental revenue helps pay the costs of ownership.
Most serviced apartment concepts attract both property buyers and guests with the outstanding amenities and services offered. Spas, fitness areas, business rooms, concierge services, and housekeeping are examples of common hotel amenities.
A serviced apartment is a hassle-free option to rent. The property's management company handles maintenance, repairs, and guest interactions.
Owners can sell their properties at any time. They retain all appreciation profits. Thus, serviced apartments combine the benefits of vacation homeownership with the potential rewards of investing.
Benefits for Guests
In comparison to a hotel room, a serviced apartment provides more living and relaxation space.
Serviced apartments have courteous and experienced personnel on-site and are available to offer guests exceptional customer care throughout their stay.
Serviced apartments allow guests the freedom to live how they wish. You have the option of preparing your own meals or going out to eat. You may host parties or hold client meetings in the living room. You get to make the decision. You can even let your pet join you in a pet-friendly serviced apartment.
It's really simple to reserve a serviced apartment. There are no lengthy procedures or hefty deposits necessary, unlike when renting a long-term apartment. The process of filling out forms is straightforward and does not require a long-term commitment.
Weekly housekeeping services provide visitors with increased privacy and comfort due to fewer intrusions. You may also arrange for a regular housekeeping service if desired.
Because serviced apartments have fewer extra fees, they are an affordable alternative to hotels. 
More Information About Serviced Apartments in Turkey
For more information on serviced apartments contact us at Newinn! Newinn's welcoming staff is happy to assist you as soon as possible.