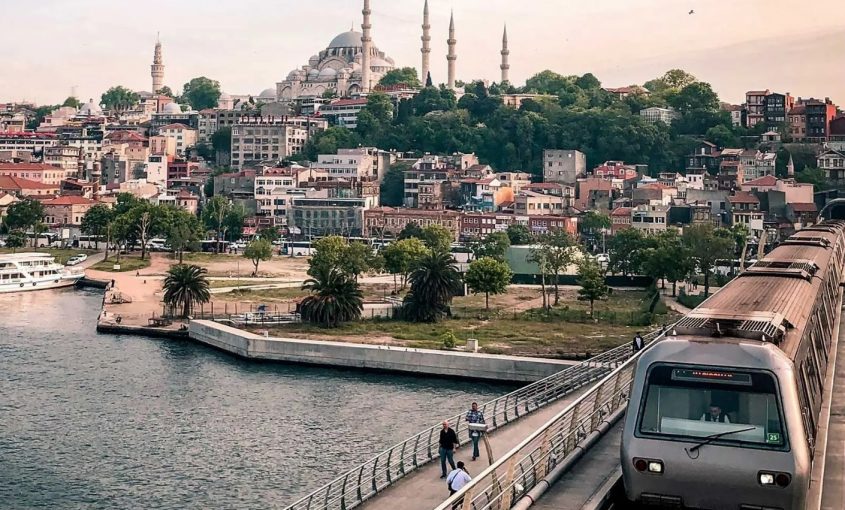 Istanbul is Turkey's largest metropolis, as well as the country's cultural and economic center. Due to its historical importance, and geographic location on two continents, it offers a diverse selection of attractions such as restaurants, parks, museums, mosques, and historical landmarks.
Today, Istanbul is one of the world's most popular tourist destinations, and the city's tourism industry rivals the most cosmopolitan cities on the planet!
The public transportation system in Istanbul is often regarded as the best, the largest, and the most efficient in Turkey.
Visiting Istanbul? Here's all you need to know about how to get around in the magnificent city:
Marmaray
Marmaray is Istanbul's longest transportation route. It's an underground tunnel that passes under the Bosphorus and connects Europe and Asia all the way to Gebze on this transcontinental railway. It has a total length of more than 76 miles.
If you're at Yenikap or Sirkeci, you may use Marmaray to get to the Asian coastlines. To get to the European side, Üsküdar and Ayrilik Esmesi are two stations on the Asian side. More information may be found at www.marmaray.gov.tr.
Metro
Istanbul's rail system is the best method to get about because it connects to a large network of locations across Europe and Asia. Moreover, Metro provides cost-effective service. The following are the starting and ending sites for the most popular metro lines:
M1 line – Aksaray to Ataturk Airport to Kirazli

M2 line – Haciosman to Yenikapi

M3 line – Kirazli to Olympic, Basaksehir on the European side

M4 line – Kadikoy to Tavşantepe

M5 line – Uskudar to Yamanevler on the Asian Side
To find your route on the metro and for more information visit https://www.metro.istanbul/en/
Tram
Taking the tram is also a fast and convenient method to get through Istanbul's most popular areas. Istanbul's tram system is hygienic and air-conditioned. On the European side, two lines are in operation: the T1 line from Kabataş, which provides convenient access to Sultanahmet, and the T4 line, which runs north-west through the city. It is operating from 6 a.m. to 11 p.m. The T1 line will take you to the city's biggest attractions. It's advised to use since it's inexpensive and fast, and it is unquestionably the simplest method to go to the old town.
Funicular
Karakoy-funicular Tunel's system is one of the world's oldest, having been built in the late nineteenth century and still in use today. There are also two funicular lines:
The (F1) line connects Taksim Square with Kabataş. Using Karaköy-Tünel (F2) will save you time by allowing you to speed down Istiklal Street instead of having to climb up the slopes to get to Galata.
Nostalgic Tram
Trams functioned in Istanbul from 1869 until 1966, both horse-drawn and electric. At the end of 1990, the tram was reintroduced to service between Taksim and Tunel as a "Nostalgic" tram.
The red trams are no longer used for public transportation, but rather for tourists and entertainment. They appear like something out of an old movie, with two lines in operation: the European (NT) which travels from Taksim Square to Tünel, and the Asian (T3) which travels from Kadköy to the Moda area.
Ferries
There is no more enjoyable way to cross the Bosphorus than by ferry. Additionally, there are smaller boats that depart near the ferry terminal. Istanbulkart is accepted by both. The ferry is also a good option to avoid heavy traffic during rush hour. Visit the webpage to learn more about the routes. https://www.sehirhatlari.istanbul/en
Buses
There is no doubt that buses are the cheapest and most economical way to get around in Istanbul. They serve nearly all of the city's districts and cover most of the tourist areas. However, they don't have maps inside and the stops are not announced, so you'll need to be alert and keep an eye on where you're going. Moreover, the fact that these buses are frequently overcrowded and difficult to catch has caused residents to seek out other modes of transit instead. The website https://www.iett.istanbul/en can be used to check bus routes and other public transit options.
Metrobuses
In order to avoid traffic jams, Metrobuses use designated lanes. The majority of the serviced regions are located on the outskirts of the metropolis. If you're just touring Istanbul, you won't get much use out of it. Metrobuses will only take the Istanbul Kart and the Mavi Kart.
Taxis
To take a taxi in Istanbul, you should either download one of the taxi Istanbul apps or hail one from a taxi stand. The Bitaksi app allows you to call a taxi to your location. Pre-trip information on your driver, including their rating, is available. Paying by credit card in advance or after the trip is also possible. If you're calling a taxi from the stand, when it arrives, inform the driver of your destination. Make sure to use the navigation to determine the best route, as some taxi drivers may attempt to overcharge you by taking a longer route to your location. A taxi in Istanbul may be pricey, and it's not always faster than taking public transportation instead. The website https://taksiyle.com/en/istanbul is a great resource to get an idea of how much your taxi fare would cost.
Dolmuş Shared Taxis
Dolmus shared taxis are fast, inexpensive, and commonly utilized in Istanbul, and they run around the clock. They follow a predetermined route and leave after they've reached the capacity of 8 passengers. You can get off at any point along the journey. Once you're seated, tell the driver where you're going and he'll tell you how much the fare is; only cash is accepted. The main dolmuş lines are:
Beşiktaş to Taksim.

Taksim to Bakırköy, Yeşilköy.

Sarıyer to Beşiktaş and Kadıköy and Üsküdar from Asia.

Beşiktaş and Taksim also have lines that connect Europe and Asia.

Istanbulkart
Istanbul's public transportation cards, known as "Istanbulkarts," are the most widely used means of payment and require credit to be loaded into the card. You may use the Istanbulkart to access all public transit in the city, including the metro, trams, funiculars, ferries, and buses. You can get this card from little kiosks near all metro stations, docks, and bus stations.

Apps to Download for Transportation in Istanbul
IstanbulKart:

With the Istanbulkart public transportation app, you can simply check your account balance and refill it as needed.

Moovit

:

provides step-by-step directions from where you are to where you want to go and will notify you when your bus, tram, or metro will arrive at the station.

Itaksi and Bitaksi:

these apps allow you to call a taxi wherever you are. You will be able to see the distance you travel, track your taxi, get an estimate of the fare's price, and make use of credit card payment options.

İBB Ceptrafik: t

his public transportation app provides an overview of Istanbul's traffic zones via a map, camera, and ticker. You may use the traffic prediction to plan your day and anticipate potential delays.
Related Articles…
10 Useful Applications for Expats Living in Turkey
Top 12 Places to Visit and See in Istanbul
Choosing Serviced Apartments in Istanbul as a Digital Nomad