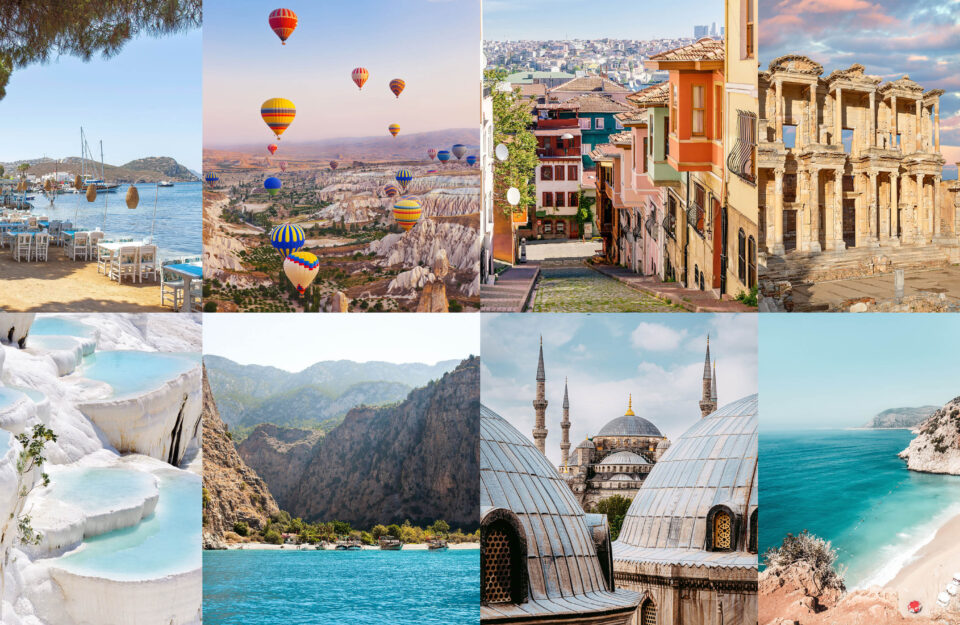 Whether you're looking for a city break, a beach vacation, a history lesson, or a chance to explore some of the world's most awe-inspiring landscapes, Turkey is a fascinating location that has something for everyone to enjoy.
To show you how much of a captivating travel destination Turkey is, we've rounded up the most popular places to visit in Turkey.
Fairy Chimneys of Cappadocia
Cappadocia's awe-inspiring scenery is reminiscent of something out of a fairy tale. Over time, honey-colored rocks have eroded into shapes like minarets, mystical mushrooms, and what are now known as Fairy Chimneys, while the soft volcanic rock under the earth has been carved by humans since the Bronze Age into homes, churches, and monasteries – even entire subterranean towns. There are a lot of caves in the tuff at Cappadocia because it is easy to carve into them.
At dawn or sunset, take a hot-air balloon ride; alternatively, ride a horse or bike to see it; or simply sit on your cave hotel's roof terrace and watch hundreds of balloons glide overhead as the low sun lays apricot light over the town of Göreme. This is one of the world's most romantic locations.
Patara Beach and Ancient City
As the longest and most beautiful beach in Turkey, Patara Beach is also one of the most deserted. On one side of this vast expanse of the softest sand dunes, you'll find crashing waves and pine trees; on the other, you'll find marshes and lagoons that have been transformed into a natural park rich in birdlife, so you'll be surrounded by water and nature. The turtles and the remnants of the ancient city of Patara, constructed by Apollo's son, are two of the reasons why the beach remains pristine and protected.
It is through these ruins that you may go to the beach, which includes an amphitheater, parliament building (which was discovered buried in sand in the 1990s), and the column-flanked ruins of the main road. Apollo's temple is rumored to be buried beneath the surface, although it has yet to be found.
Ephesus Ancient City
Ephesus was significant in both the history of the Ancient Greeks and the Roman Empire. The Roman Empire's eastern provinces were ruled from this city for a while, and it was during this period that the empire's greatest achievements were made.
Located some distance from the coast of the Aegean Sea, the town was first established around 9,000 years ago. Monuments dating from the Roman era to Christian, Ottoman, Hellenistic, and Greek times can be seen here such as the colonnaded streets, temples, an amphitheater, and even the Celsus library, whose carved exterior can still be seen today.
Throughout history, the ancient city's Temple of Artemis has been recognized as one of the most sacred places. Temple of Ephesus is regarded as one of the Seven Wonders of the World and is the centerpiece of the city.
Celsus Library is Ephesus' second most significant historical site. The library, a superbly preserved example of Roman architecture, is one of Turkey's most popular tourist destinations.
Istanbul's Mosques
A must-see on every trip to Turkey, is the Hagia Sophia, one of the most beautiful ancient structures in the country. Byzantine Emperor Justinian I, who ruled the Eastern Roman Empire at the time, ordered the construction of this spectacular building in the sixth century. It boasts an amazing design, as well as a remarkable blend of Byzantine and Muslim elements in its interior. As you approach the structure, you'll be greeted by stunning mosaics and other modern art. Hagia Sophia is especially significant because it combines several religions, and many travelers interpret it as a message of harmony, prosperity, and inclusiveness.
The Blue Mosque, also known as the Sultan Ahmed Mosque in Istanbul, is a striking sight to see. In addition to its role as a mosque, the Blue Mosque is now one of Istanbul's most prominent tourist attractions. Built to compete with Hagia Sophia, the massive Blue mosque was built by Sultan Ahmed I and helped define Istanbul's landscape with its magnificent domes. Inside, 20,000 blue tiles in a variety of designs cover the high ceiling of the mosque's main hall, earning it the nickname "the Blue Mosque."
Oludeniz Beach in Fethiye
With its white beach and turquoise ocean, the Turquoise Coast has adopted this bay as a symbol of its beauty and wonder. The turquoise hues of this beach have made it one of the most photographed beaches in the Mediterranean. In the calm waters off Belcekiz beach, the sands create seascapes reminiscent of the Maldives, with whirling blue and white waves shielded by the green promontories that surround it.
Due to its unparalleled panoramic views, Oludeniz is widely recognized as one of the top paragliding locations in the world. Paragliders soar over the scene, taking in the magnificent views.
Pamukkale & Hierapolis
As one of Turkey's most famous natural beauties, the pristine white travertine terraces of Pamukkale, also known as "Cotton Castle", tumble down a hill, seeming as if they were floating on top of a snowfield in the middle of a lush green valley. The terraces are formed of travertine, a sedimentary rock created by hot springs water with a high mineral concentration. The thermal water from these natural hot springs is known for its therapeutic properties.
A visit to Pamukkale would be incomplete without seeing the massive and wandering remains of Greco-Roman Hierapolis, an ancient spa town, which is dispersed across the crest of this calcite hill.
Antalya the Coastal Resort
Antalya is one of the most well-known tourist destinations in Turkey, and it is blessed with natural beauty that appeals to people of all ages and backgrounds. You should visit Antalya if you want to enjoy both the beach and the mountains in the same place. For thrill-seekers and beach bums alike, it's one of Turkey's most unbeatable tourist destinations. Tourists flock to this cosmopolitan city all year round for its vibrant atmosphere and stunning natural scenery. You may also enjoy water sports on Antalya's beautiful beaches and hike through the lush green mountains. The ancient ruins that dot these mountains add to the allure of this place.
When it comes to summer vacations, the two main beaches outside of town are a haven for sunbathers and draw visitors from all over Europe. While the old town Kaleici, nestled right in the heart of the city, is a gorgeous place to explore, with its cobblestone streets surrounded by old Ottoman-era homes.
One of Turkey's top museums, the Antalya Museum houses an impressive collection of Hellenistic and Roman marble statues. The city also serves as a jumping-off point for several day trips. Aspendos and Perge, two of Turkey's most highly regarded Greco-Roman ruins, are just a short drive from the city of Antalya, as are the remains of Side. Belek, in Antalya, is also famously known as a world-class golf destination.
Mount Nemrut
Mount Nemrut's summit burial mound, which is the most popular tourist attraction in eastern Turkey, is clustered with the broken shards of once-colossal sculptures that previously guarded the mound's entrance. Unquestionably, Turkey's most bizarre archaeological site is located here. The enormous stone heads of long-forgotten deities appear over the secluded mountaintop.
Antiochus I of Commagene constructed a tomb-sanctuary on Mount Nemrut's summit and adorned it with sculptures of himself, two lions, two eagles, and several Greek and Persian gods. When visiting around daybreak, you'll get the best view of the sculptures as they emerge from the darkness.
Troy and Gallipoli of Canakkale
Turkey's Aegean coast is home to the town of Canakkale, a popular tourist destination. Canakkale, a significant Turkish city not far from Istanbul, is well worth a trip. Troy and Gallipoli need to be discussed individually in order to better comprehend Canakkale's significance.
Canakkale was the site of the historic Trojan War, which was told by Homer in the Ilyad epic. There are still remnants of Troy's ancient ruins visible today. Troy has inspired a film starring Brad Pitt as well as a Netflix series (Troy: Fall of a City). There is a new Troy Museum within 800 meters of the archeological site. Archaeological artifacts from the city's 4000-year history, as well as discoveries from other locations, make up its fascinating collection that is housed in a well-thought-out contemporary structure, and a must-see for anybody visiting Troy.
Gallipoli, also located in Canakkale, is another historic landmark, yet tells a different tale than Troy. Canakkale was a key battleground during World War I. Fights at Gallipoli between the Allies and Ottomans that lasted for months influenced the course of World War I. Besides being historically significant, this location marks a breakthrough in Turkey's modern history. The conflict was one of the turning moments in Turkish independence, and it is important to the country's identity. At least half a million people died in this war, and memorials have been erected in their honor.
Old Mardin City
Visiting Old Mardin, you can't help but feel as if you've been transported back in time to a city filled with stories from the past. It's an intoxicating and must-visit destination. Minarets erupt from a baked brown maze of winding alleyways, a castle dominates the old city, and stone homes extend down down the hillside over the Mesopotamian plains.
Mardin has been influenced by many civilizations such as the Assyrians, Persians, Romans, Byzantines, and Ottomans. As a cultural melting ground for Kurds, Yezidis, Christians, and Syrians, it features a unique blend of ethnicities and religions. Mardin's amazing atmosphere stems from the fact that it is home to a diverse range of cultures that have coexisted for thousands of years. It's unquestionably one of the world's most authentic cities.